Fill it to Win it!
Fill out our Buyer's Contact Information Form and get a chance to win 50% off voucher applicable to all Asian Land event venues!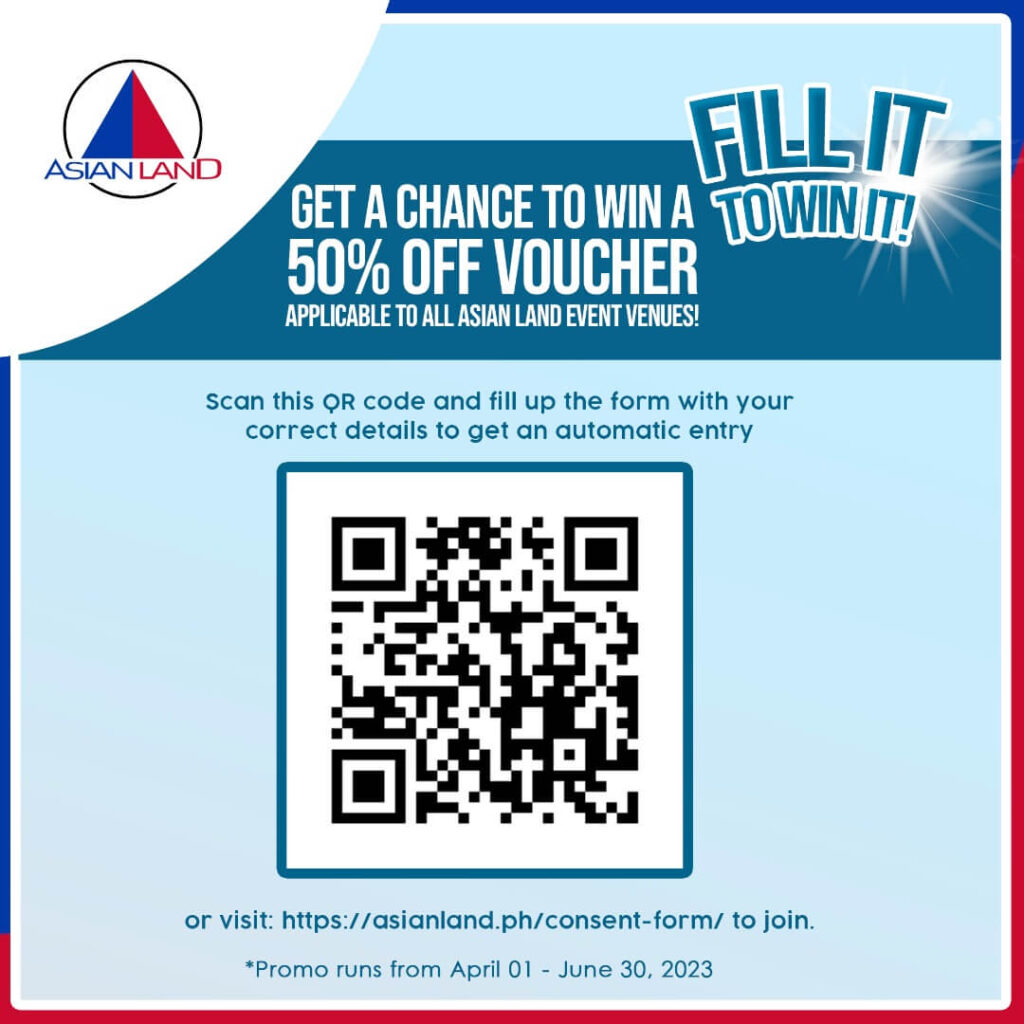 Eligibility:
This promo is open to all Asian Land Strategies Corporation's existing clients (lot or house and lot property owners) except Asian Land Employees, In-house/Accredited Sales Person, and their immediate families.
Prize:
One (1) 50% off Voucher applicable to all Asian Land event venues. Check our Events at Asian Land Facebook Page to view the available venues.
Mechanics:
1. Promo period is from April 01, 2023 – June 30, 2023. Interested clients must fill out the Asian Land's Buyers Contact Information Form: https://asianland.ph/consent-form/ to join.
2. All registrants will be eligible to win in the electronic raffle upon complete registration.
3. Each registration is equivalent to one raffle entry only.
4. Winner will be drawn via an electronic raffle on July 05, 2023 at Asian Land Corporate Center.
5. Winner will be announced on July 07, 2023 at Asian Land Strategies Corporation's Official Facebook and Instagram Account. Please see the drawing of winner in this link.
6. The winner will be officially notified at the email address used in the registration on how to claim the prize. Prizes not claimed after the sixty (60) days period will be forfeited.
Data Privacy:
By submitting your personal data to us, you consent to the processing of your personal data and accept and agree to be bound by the terms stated our Privacy Policy: https://asianland.ph/privacy-policy/. Rest assured that your personal data entrusted to us will not be used and disclosed in a manner not specified in our privacy policy statement.